Blog.
Celebrating a New Business Partnership & Opportunity!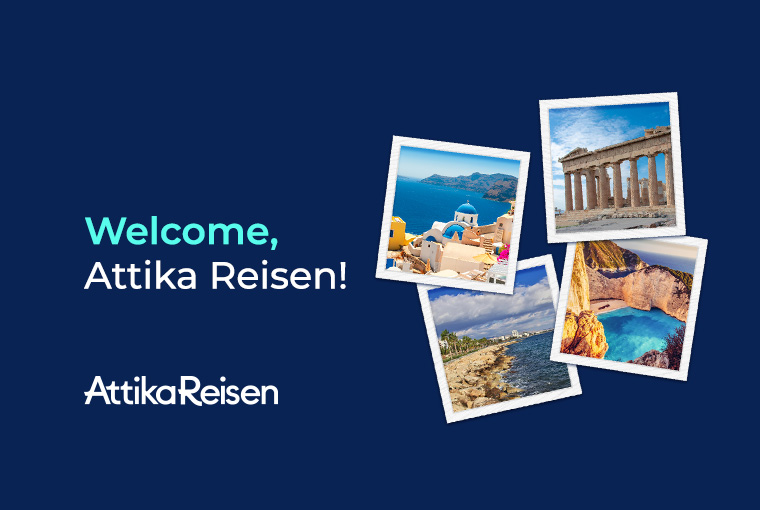 We are excited to announce Attika Reisen has joined our growing business network in Europe. Our new partner, has chosen us for our deep expertise and broad experience in the Travel Industry, to guide and manage a
holistic digital transformation
.
Attika Reisen
✓ Is a leading German tour operator with
more than 6.000
German & Austrian travel agencies partners &
more than 1.200
hotels in Greece & Cyprus.
✓ Has
more than 45 years
of experience in the Leisure, Travel & Tourism industry, offering a wide range of exceptional and distinctive travel services:


1.200 carefully selected hotels in all categories, family-run guesthouses, studio and apartment complexes, traditional country houses and villas.


Special programs, vacation packages, air tickets, rental car, round trips and other tailor made and exceptional travel options.


✓ Specializes
in a wide range of high-quality
accommodations, distinctive tours and top-notch travel services
The Goals


Optimize the direct sales performance.


Optimize the online presence and infrastructure.


Develop a continuous consultancy framework between the partners.


Our Roadmap


Audit and Analysis


Develop and optimize continuous consultancy


Deliver and growth


The Two-Year Plan
Maximize the extraordinary dynamic of Attica Reisen and to transform it into the
#1 platform
for incoming tourism from Germany.
The Vision
Blending our performance driven expertise with the highly specialized travel services of Attika Reisen, creates a unique opportunity to transform the needs and expectations of modern travelers,
into extraordinary experiences
.
The Evolution
Transformation is much more than a change. It's evolution!
Digital transformation is not just a modern aspect of today's business world. It is the core of evolution and those who choose to remain in past or present strategies, are destined to miss the future.
This new business partnership is filled with amazing opportunities and even greater plans.
More updates to follow soon!
Latest articles