Blog.
Globe One Digital Joins the 100% Hotel Show 2023: The Premium Hospitality Event!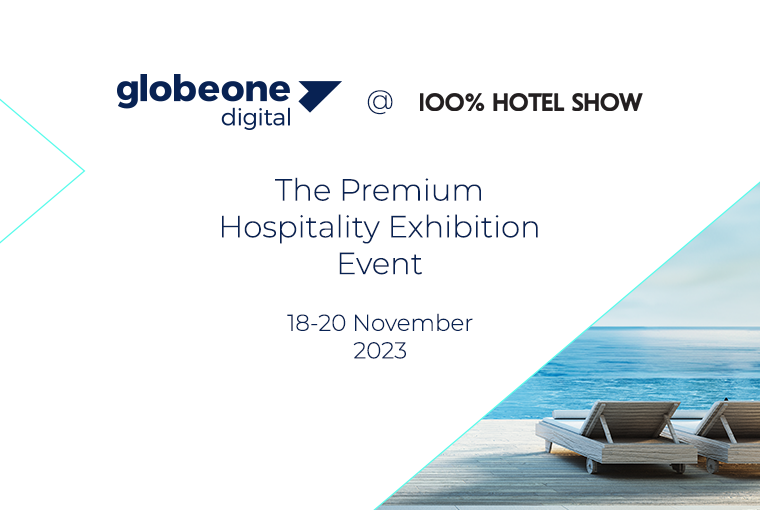 As the luxury tourism industry gathers momentum, all eyes are on the
100% Hotel Show 2023,
taking place from the
18th to the 20th of November at MEC Paianias.
This premium event, now in its 10th year, is not just an exhibition but an influential meeting of the
finest
in
architecture, design, technology, and hospitality.
Globe One Digita
l is proud to be a part of this prestigious gathering. With
two decades
of dedication to tourism, starting from the Athens Olympic Accommodation, and
25 years
in digital marketing, our presence at the event is a testament to our
unwavering commitment to excellence
. We've assisted over
100 international companies
and more than
2.000 clients
in amplifying their digital presence using innovative solutions and top-notch services.
"Unlock the Power of Hotel Reviews & Maximize Profitability"
, a white paper crafted by Globe One Digital in 2023, was born from a deep-rooted dedication to innovation and thorough scientific research, standing as
a visionary testament
to our commitment to empowering partners in the
hospitality industry
. You can read it
here
.
Globe One Digital cultivates opportunities for businesses in the tourism industry, including
accommodations, F&B, transportations, travel agencies, operators and airlines
, to dynamically grow and establish their market position, achieving a robust
digital presence
and explosive
growth
in online travel revenue. Leading-edge clients in the tourism sector that have collaborated with us include the
Athens
Olympic Accommodation, Grecotel, Marriott, The Luxury Collection by Marriott Bonvoy, Swot, Astir, Zeus, Lufthansa, Matsuhisa Athens, Villabeat,
and many more. You can discover them
here.
Our services span a wide spectrum,
as travel performance marketing, web development, UX & UI design, SEO, digital branding, social media and content strategy, business consultancy
. Leveraging
a team of exceptional talent
,
cutting-edge solutions, and state-of-the-art technology
, we embrace a bespoke approach that unlocks our clients' full potential, catalyzing a surge in
revenue and branding.
Globe One Digital proudly holds
triple certification from ISO
, meeting rigorous standards for operational continuity (ISO 22301:2019), information security management systems (ISO 27001:2013) and quality management (ISO 9001:2015), with accreditation from TÜV Austria Hellas. This commitment to excellence is further evidenced by our status as a
Premier Google Partner
and membership in
IAB Hellas
, as well as recognition as one of
the top 100 fastest-growing companies
in Europe by 'Inc. 5000'.
As we look forward to the 100% Hotel Show 2023, we invite you to join us at
BOOTH #A56-B62
to learn more about our services and explore how we can elevate your brand to new heights in the digital realm.
Schedule a meeting: Globe One Digital | Revolutionising Travel and Hospitality (hotelshow.gr)