Blog.
Beyond the Awards: Stories & Insights Behind Our Success at the Tourism Awards 2023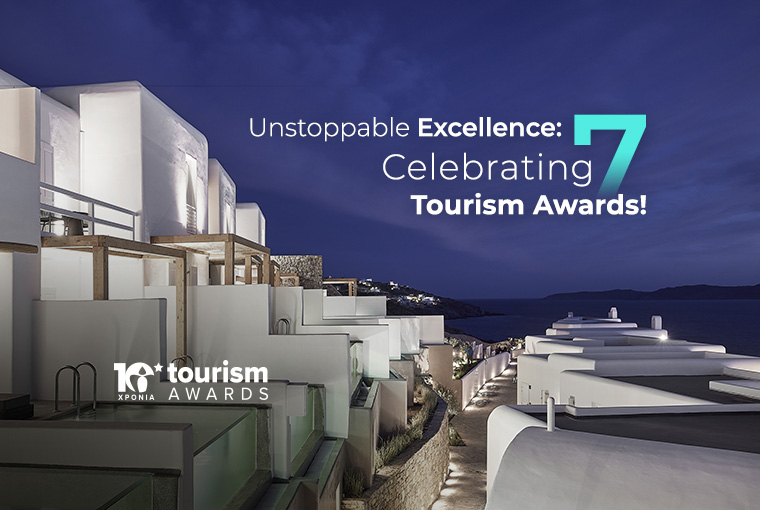 We are delighted to announce that Globe One Digital has achieved an exceptional accomplishment, winning
7 Awards at the Tourism Awards 2023
, organized by Boussias Events. The Ceremony of the 10th edition of the Tourism Awards was held on April 27 at the Grand Hyatt Athens, in front of an audience of leading companies and key leaders.
With great pride and excitement, we present to you our 7 Tourism Awards that reaffirm our commitment to
excellence
in the
travel and hospitality
industry. In this article, we share the
stories
behind each distinction, and we elaborate on intricate details, interesting insights and the significant results behind each prestigious award.
Bronze Award - Online Strategy - Domus Renier Boutique Hotel "A Boutique Hotel with an Extravagant Performance"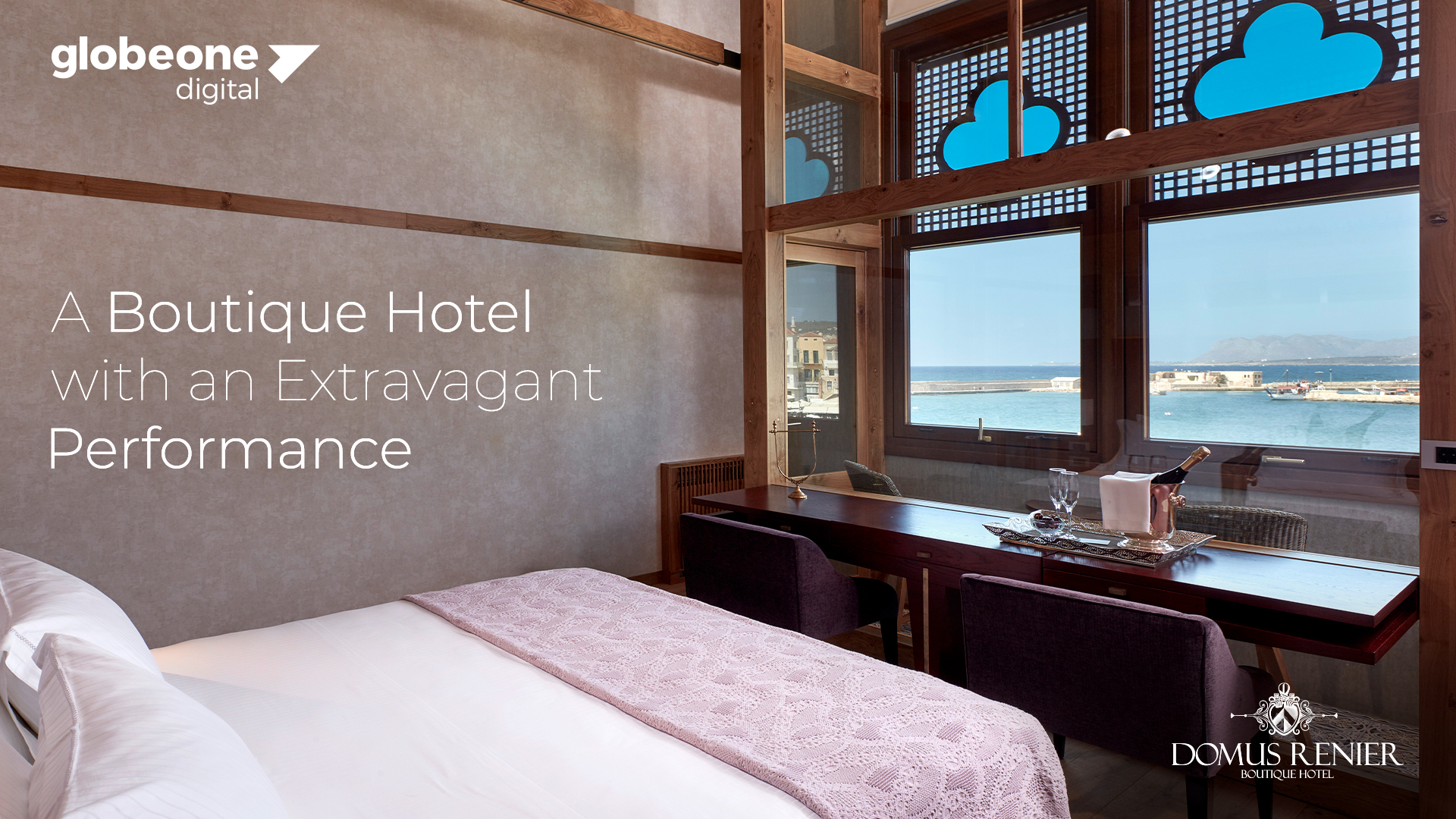 The Domus Renier Boutique Hotel is a luxurious 5-star boutique hotel located in the center of the old port of Chania, in Crete.
Our goals
were focused on achieving
more conversions
in Greece and abroad, while
increasing
revenue
and
overall return
on ad spend (ROAS). At the same time, we aimed to
highlight
the hotel's
brand
, its
history
, and
architectural design
.
Our strategy
to achieve the best possible results, involved using
different types of campaigns
to
maximize performance
. We implemented A/B testing with different messages and leveraged new technologies, among other tactics.
 The Results
Compared to 2021, we achieved the following overall results:


58% more  conversions.


72% higher revenue.


75% increase in overall ROAS, reaching 10.19% in Google Ads.


Bronze Award - SEO Strategy - Kalimera Kriti Hotel & Village Resort "Good Morning SEO"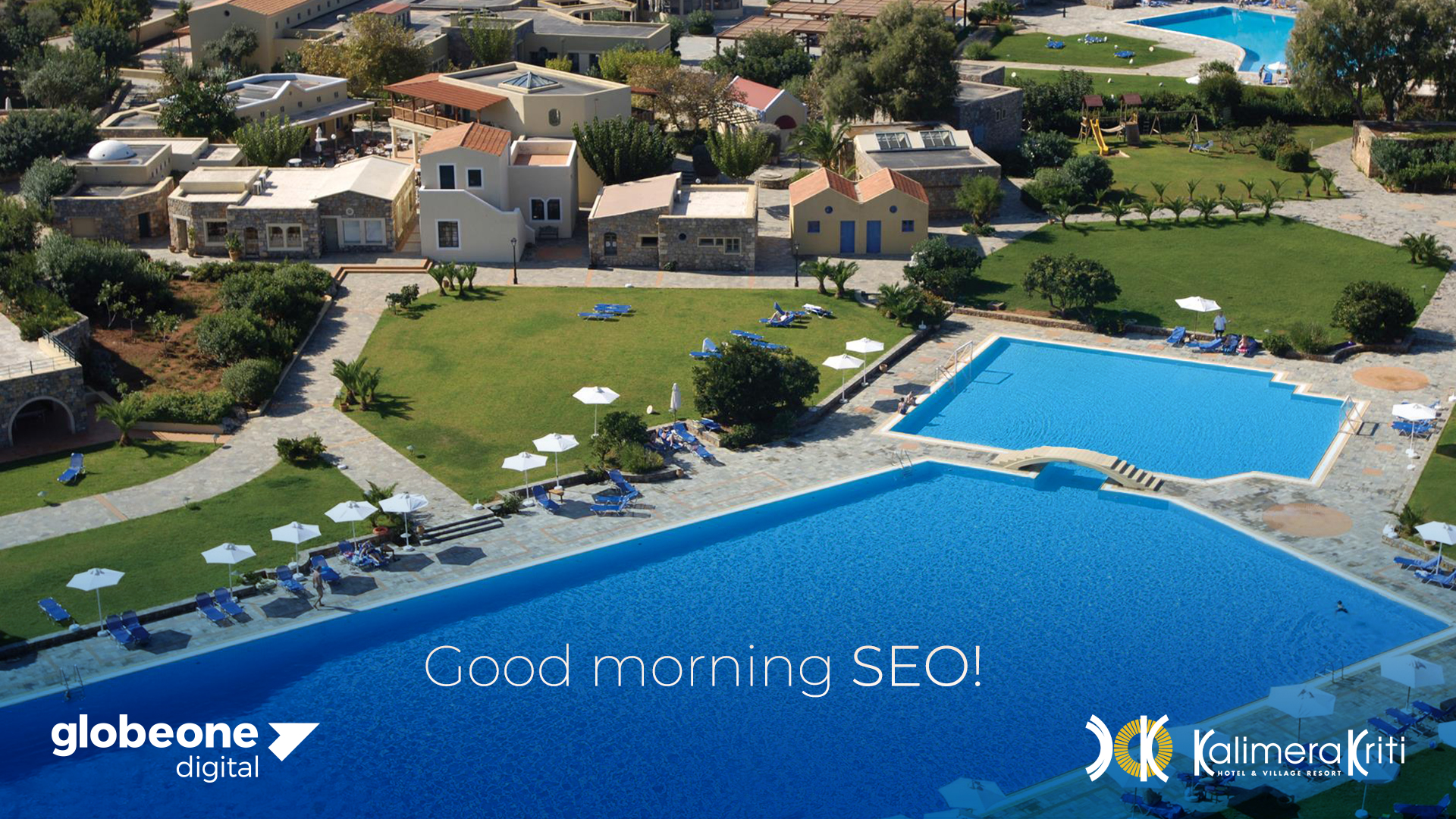 The Kalimera Kriti Hotel & Village Resort is a luxury 5-star resort in Crete, for which the goal was to achieve significant
increases
in
organic traffic, organic bookings, and organic revenue
through
SEO
optimization. Additionally, we aimed to
increase
organic rankings for
target keywords
.
In order to achieve our
goals
, we chose to focus our efforts on relevance and implemented
a series of practices
, such as technical on-page SEO, content and meta-data optimization, backlink profile analysis, designing an off-page strategy etc.
The Results
Our strategy and optimizations yielded impressive results:


29,59% increase in organic traffic.


75% increase in organic bookings.


85,42% increase in organic revenue.


34,27% increase in organic rankings for target keywords.


Bronze Award - Online Presence – Amazon Mykonos Resort & SPA - Sunset Restaurant "Recipe for a Deliciously Inviting Website"
Τhe luxurious Amazon Mykonos Resort features the
Sunset Restaurant
, which we were asked to promote and showcase in order to
increase reservations
from tourists staying in Mykonos during that period.
Our aim was to create a
dynamic online presence
focused and dedicated to the restaurant. The website had to have the right ingredients to become an attraction for tourists in Mykonos and not just for hotel guests.
We proceeded to create a
new
website specifically for the restaurant with a
different
name from the hotel, so it wouldn't be exclusively identified with the hotel and would serve as a separate online entity.
The Results


5.000+ website clicks.


520.000+ impressions.


40+ conversions, either through the website or via phone reservations.


We achieved a significant
increase
in
restaurant occupancy
on average for all days, leading to
increased revenue
for the resort. Additionally, restaurant guests had the opportunity to become familiar with the resort's brand beyond the restaurant, encouraging future accommodation bookings.
Bronze Award - User Interaction – Dana Villas & Infinity Suites "The Influence of a True Luxury Experience"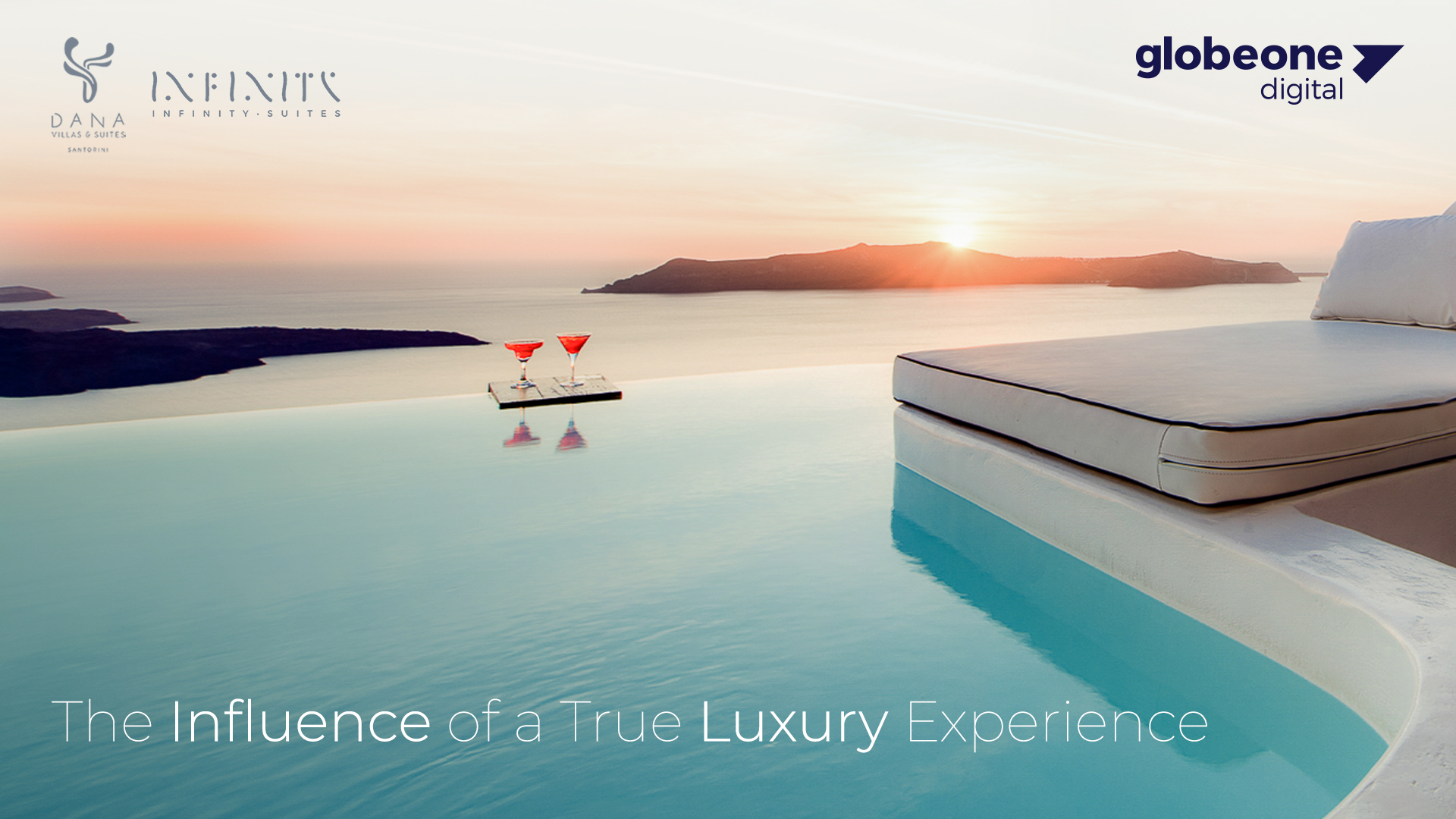 The Dana Villas & Infinity Suites is a luxury complex in Santorini, built on the Caldera with breathtaking views and suites featuring private infinity pools. The location, views and sunsets have been captured in numerous photos posted on social media.
Each post receives numerous likes and comments, which raised the following question:
How could the memories and experiences of the guests serve as a tool to build greater brand awareness and differentiate the hotel brand from the competition, making it the top choice.
Our
response
to the challenge came in the form of three objectives:


Strengthening brand awareness and brand distinctiveness to stand out from the competition, focusing on the luxury characteristic.


Creating content to fuel advertising efforts targeting both the general public and specifically the luxury tourism audience.


Increasing bookings and revenue for the year 2022.


The channels used were Facebook and Instagram.
The Results


173,42% increase in reach – Facebook.


121,06% increase in reach – Instagram.


Also, the average engagement per post
increased
by
127,4%
compared to 2021
, and on Instagram it
increased
by
271,6%
within the year.
Additionally, there was a
parallel increase
in Facebook and Instagram following, with Instagram showing a
44.0985%
increase compared to 2021, and Facebook a
29.0323%
increase. Furthermore, the social media participation in the hotel's overall bookings reached
17,72%.
Silver Award - SEO Strategy: Galaxy Hotel Iraklio - "Galaxy is our SEO limit"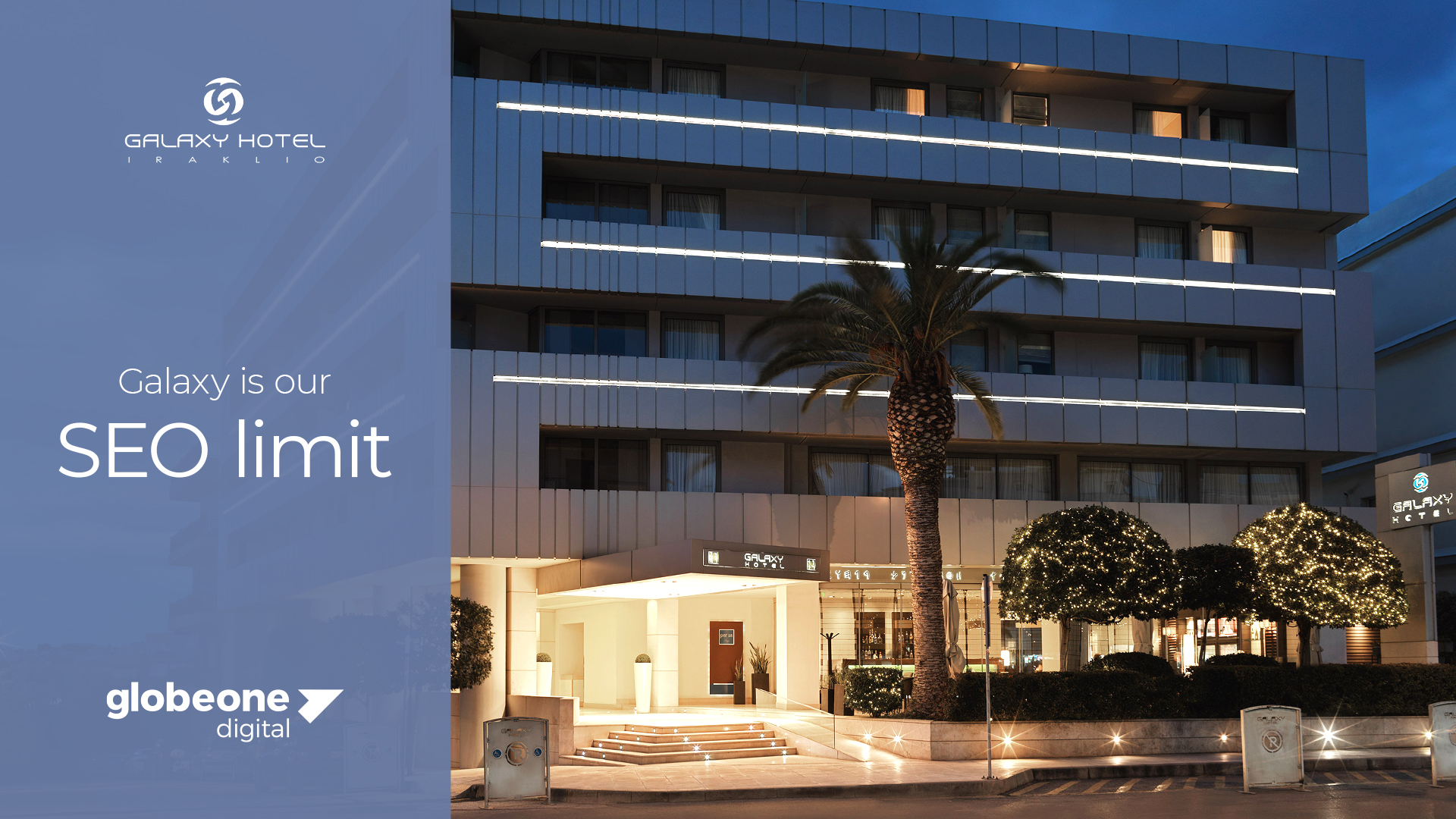 Galaxy Hotel Iraklio is a 5-star hotel located in Heraklion, Crete, which underwent a complete renovation in 2022. The
renovation process
posed a
challenge
for the hotel's visibility and promotion.
In 2022, we launched the
new
Galaxy Hotel
website
, designed and developed by our company. The goal was to achieve
greater
relevance and authority through the
renewal
of its online image. We aimed to achieve
increased
organic traffic, organic bookings, and organic revenue through SEO optimization, as well as an
increase
in organic rankings for target keywords. Additionally, with the hotel's
refreshed
image and the new website, we worked on building
greater
awareness around the brand.
The Results


136,99% increase in Organic Traffic.


192,06% increase in Organic Bookings.


192,08% increase in Organic Revenue.


88,40% increase in Organic positions for target keywords.


Gold Award - Last-minute & Deal Site Sales/ Online Sales - Attika Reisen Last-minute Offer "First Success with a Last-minute Challenge"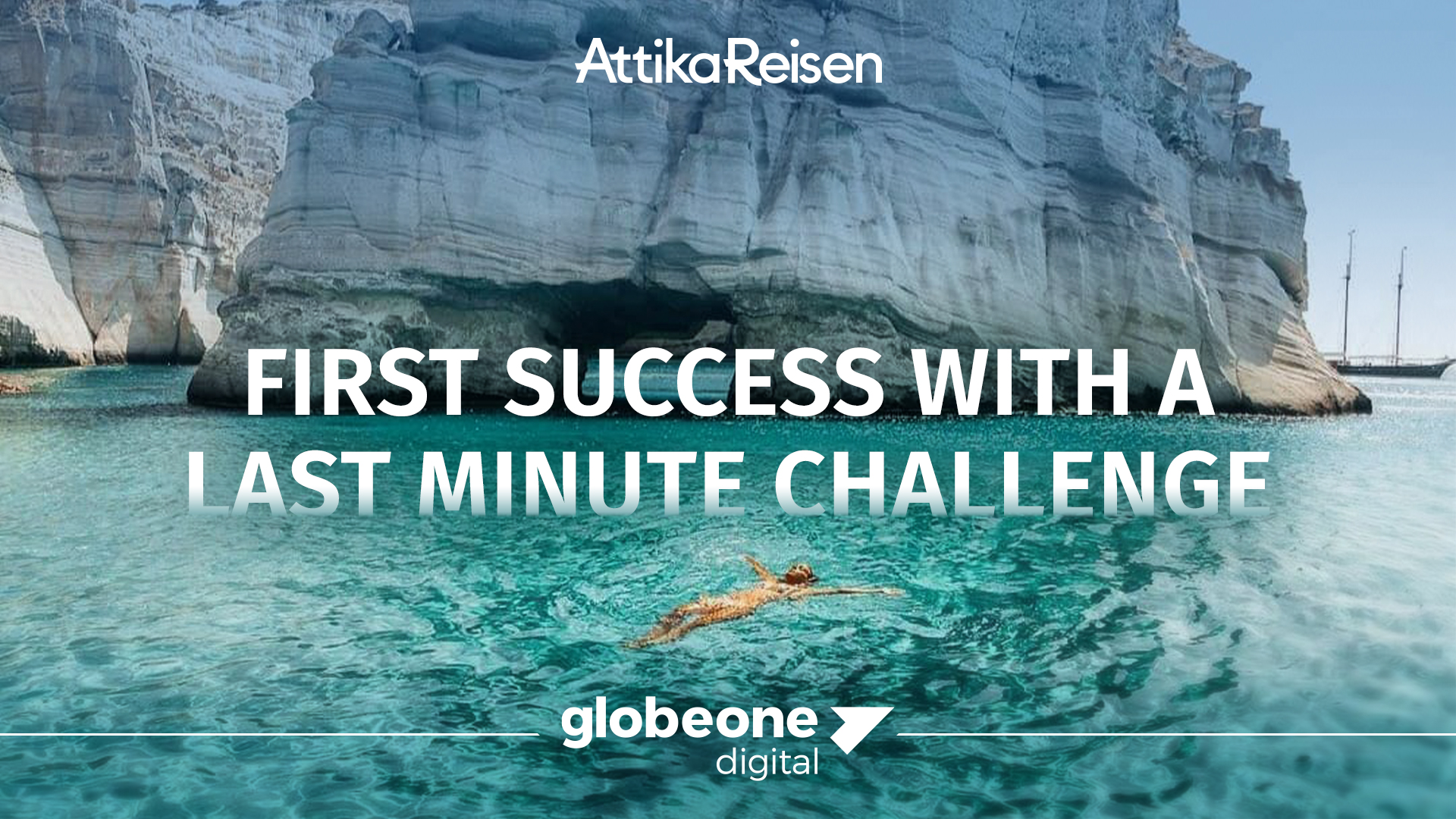 Attika Reisen is one of the
leading
travel agencies in Germany, specializing in tourism in Greece and having many years of experience. They recently became part of our client portfolio, and the beginning of our partnership posed a
challenging task
as it involved
a race against time
to implement one of our new client's
most powerful
promotional campaigns
swiftly
and
effectively
.
We were called upon to implement a
Last-minute offer on their website
, which involved a €100 coupon for any package booked by users. The challenge we had to face was the fact that, although our collaboration had just begun, we had to
quickly
determine our strategy and coordinate all the necessary actions to be taken.
The Results
With quick reflexes and appropriate planning, we achieved
exceptional results
. Our experience in the tourism industry played a crucial role in achieving the desired outcomes within the given timeframe.
The overall revenue results were highly positive, with the client experiencing
a 56% increase
from the beginning of the campaign
compared to
the previous year. Additionally, the Return on Ad Spend (Roas) reached
22.34
within the first 15 days of the campaign, considering all our promotional efforts.
Gold Award - Multichannel Marketing Strategy - Wyndham Grand Mirabello "Revamped & Optimized"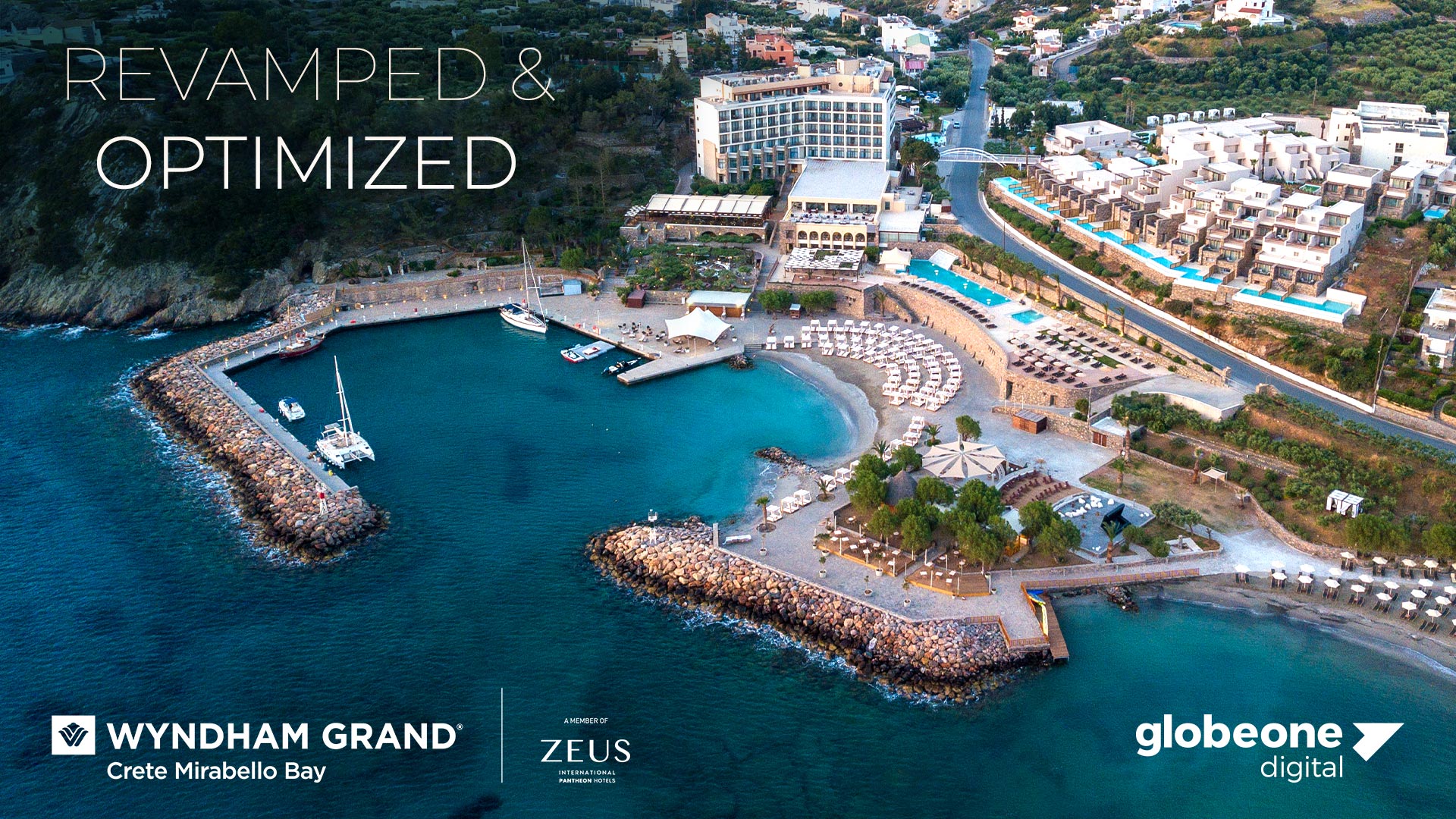 Wyndham Grand Mirabello is a 5-star hotel located on the renowned beach of Agios Nikolaos in Crete. The
challenge
we faced was that the hotel underwent a
complete renovation
in 2022. The renovation resulted in
new
luxurious facilities that
made it stand out
in its category, which is what had to be showcased and aligned with the brand.
We chose a
multichannel approach
to strategy to achieve better results, which is why our approach was based on three directions:
1.Social Media
Our
goal
for organic social media was to promote the hotel to the Greek audience
as much as possible
and create
significant
brand awareness for the summer season.
The Results - Social Media


129% increase in Facebook Page Reach.


462,4% increase in Instagram Reach in 2022, with an average post engagement increase of 4.1%.


53,7% increase in total Facebook following.


112,071% increase in Instagram following.


2. Media
The most significant
challenge
for promoting Wyndham Grand Mirabello was that the hotel's
renovation
and the branding efforts needed to be carried out
simultaneously
with sales.
The Results - Media


188% increase in total Roas, compared to 2021.


103% increase in traffic compared to 2021.


177% increase in total conversions.


435% increase in total revenue.


3.SEO
Utilizing our expertise in Search Engine Optimization for tourism accommodations, we developed a
specific action plan
to achieve
greater
relevance and authority.
The Results - SEO


68,19% increase in organic traffic.


318,75% increase in organic bookings.


65,33% increase in organic revenue.


As we conclude the presentation of the success stories that led to 7 Tourism Awards in 2023, we would like to thank our team members for their amazing work and our partners for trusting and supporting us throughout our journey.
With a renewed commitment and a clear vision for the future, we will continue to redefine Tourism in Greece and revolutionize the hospitality industry. Our unstoppable passion for excellence will continue to set new industry standards, as we are more determined than ever to leave our mark in the industry.
Get in touch here and let's talk about great ideas, tailor-made strategies and ingenious plans that will transform your business, in a way you never thought possible!
Click the link below to embark on an extraordinary adventure in hospitality:           
Latest articles