Blog.
The New White Paper by Globe One Digital: "Unlock the Power of Hotel Reviews & Maximize Profitability! An In-Depth Guide for Hoteliers"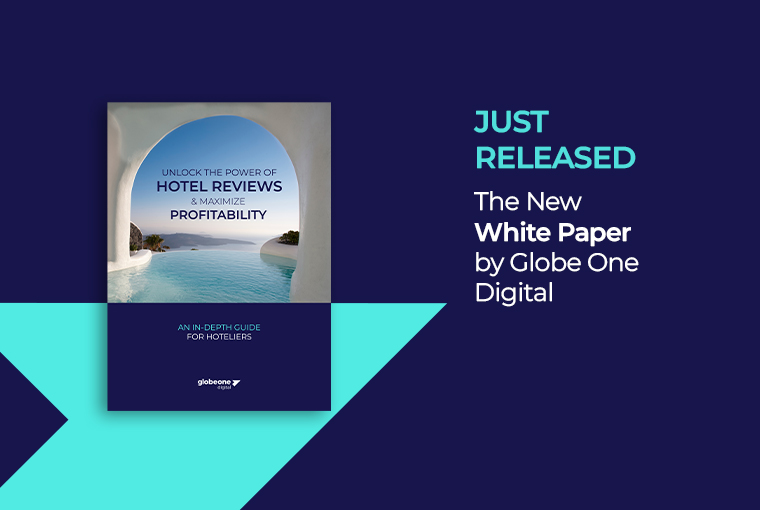 For over
25
years, Globe One Digital has been at the forefront of
online travel marketing
, specializing in the
hospitality
industry. Throughout our journey, we've stumbled upon a mysterious and intriguing grey area that continues to baffle hoteliers, where questions outnumber answers regarding
the impact of hotel reviews on bookings and profitability.
After collaborating with
numerous hotels, resorts, and luxury hotel chains
across
Greece and Cyprus
, we've uncovered strategies and practices that can harness the influence of reviews to optimize the
overall
hotel performance. Our firsthand observations and insightful findings inspired and became the driving force behind a
meticulous six-month research endeavor.
We delved deep into the intricacies of hotel reviews, leaving no stone unturned and no question unanswered. The result? An
informative white paper
that serves as an
invaluable
guide for hoteliers
seeking to
better
comprehend this "uncharted territory" and navigate successfully through it.
This comprehensive and in-depth resource aims to transform the once-mysterious world of
hotel reviews
into a
powerful
tool for effectively managing and redirecting their influence to achieve
unparalleled profitability
.
The new White Paper by Globe One Digital "Unlock the Power of Hotel Reviews & Maximize Profitability" is a must-have insider's manual for forward-thinking hoteliers of the digital age!
Download a completely free copy here:
Uncover deeper understanding of our proficiency in the Travel & Hospitality industry by delving into more details about our successful partnerships here:
Latest articles