Triple ISO Certification for Us & Triple Benefits for You!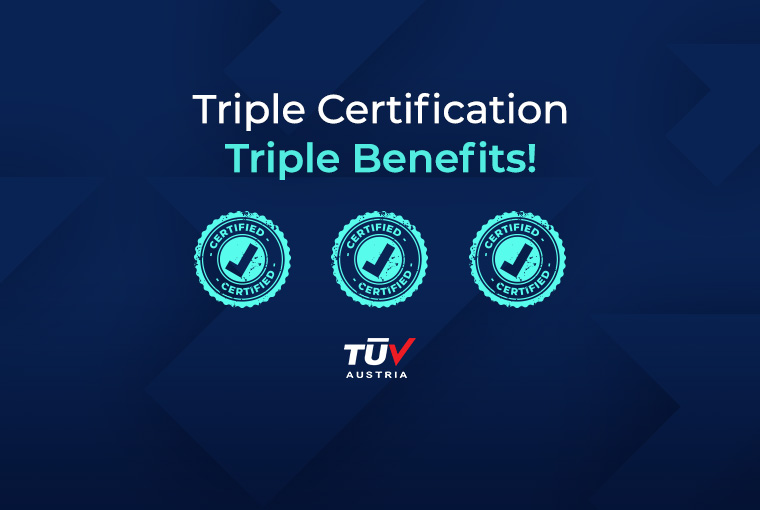 We are multi-certified and filled with pride!

We are beyond proud to announce Globe One Digital has been awarded 3 ISO Certifications by @tuv.austria.hellas! What does this mean for us and our clients?

A triple ISO Certification gives us 3 very good reasons to celebrate an important achievement, but how can these ISO certifications benefit your business or your brand and give you reasons to celebrate with us?

ISO 22301:2019 – The certification ensures we are implementing our Business Continuity Management System, by having robust contingency plans. This is a highly rewarding achievement for us, a result of investing resources and hard work in security and planning. It demonstrates we are resilient in mitigating risks and safeguarding from a wide range of potential disruptions. It assures our clients we can proactively identify and prioritize threats, promptly respond to and recover from incidents, in order to provide continuous and effective services. We believe it takes vision & dedication to achieve, but it takes excellence to prove it. Even more so, when dealing with potentially disrupting situations or conditions.

ISO 27001:2013 – The certification proves we are committed to data security by meticulously planning, maintaining and continually improving our Information Security Management System. It ensures we are handling information with confidentiality, availability and integrity. For our clients, it means their valuable and crucial information is well protected and they can feel secure and confident in the way we handle and manage data and information risks. We are dedicated in safeguarding those who trust in us and our security control practices.

ISO 9001:2015 – The certification ensures we are implementing the highest quality standards to successfully meet the evolving needs of our clients, with a strong and effective Quality Management System. It demonstrates our commitment in creating effective policies, processes and procedures in order to continually improve the services we offer. Our clients can be assured they are working with a company which aims for the highest quality services, in order to meet their needs and even go beyond their expectations. We are proudly certified for our ongoing commitment to quality.



We always celebrate achievements that fuel our vision with passion.
Join us!