Blog.
Globe One Digital Sponsors Rower as He Goes for Gold!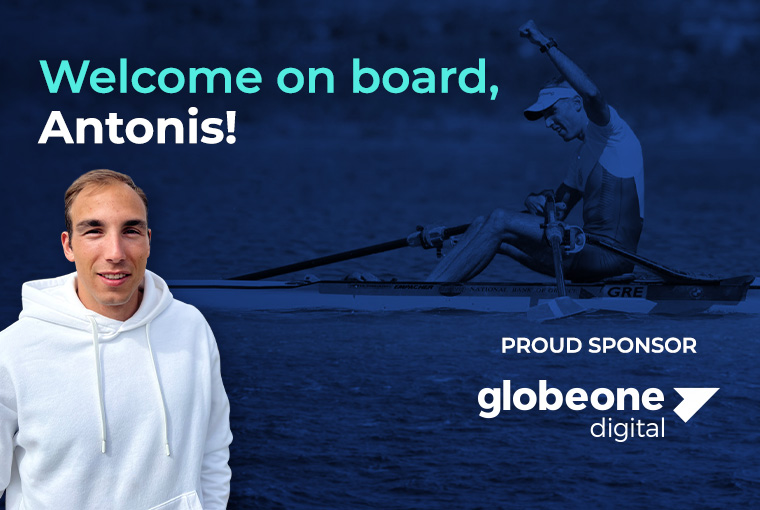 As champion Antonis Papakonstantinou prepares for the 2024 Paris Olympics, we're proud to offer him all the support he needs.
Globe One Digital is delighted to announce
our sponsorship of the accomplished Greek rowing champion Antonis Papakonstantinou
, as he prepares to compete in the highly anticipated
Paris 2024 Olympic Games.
Born in 1999, Antonis is an athlete of the Hellenic Nautical Club of Greek-Egyptians (ENOA),
who competes in the lightweight skiff category
. In recent years the accomplished rower has achieved major distinctions, such as
winning 1st place at the U23 World Championships in 2021, winning the silver medal in the lightweight skiff event at the 2022 World Championships and the gold medal in the same event at the European Championships of 2022.
The 24-year-old athlete is considered one of the country's
top rowing talents
and is one of Greece's
greatest hopes for a gold medal at the 2024 Olympics in Paris.
And every step of the way, he keeps offering new causes for celebration, as happened very recently when the national team
won six more medals (four silver and two bronze) at the International Regatta of Piediluko in Italy.
Globe One Digital takes immense pride in its unwavering dedication
to the promotion of Greek sports.
We are thrilled to be actively
supporting Antonis
in his remarkable journey towards achieving his dreams and bringing glory to Greece on the global sporting stage.
We understand that rowing is a discipline that requires an immense physical, mental, and financial commitment, and
we are honored to be contributing to the cause of supporting Greece's talented athletes.
Our goal is to empower them to pursue their passion and excel in the most prestigious sporting events. Our CEO, Dimitris Papoutsis, said
"At Globe One Digital, we believe that we must support Greek sports, especially sports that are not particularly well known to the general public but bring significant distinctions and contribute to society. When we discovered that Antonis had not been able to find a sponsor, despite the accolades he has achieved in recent years, we decided to support him so he could gain as many resources as possible in his preparation for the 2024 Olympic Games." 
Our agency is defined by the conviction that through our collective efforts,
we can help build a culture of excellence in Greek sports and inspire generations of athletes to follow in the footsteps of our champions.
We remain committed to our mission of fostering a thriving sporting community in Greece and contributing to the growth and development of our nation.
Our track record
of supporting
sports-related ventures, individuals, and teams goes back to even before the 2004 Olympic Games
, during which we were selected to offer our marketing services. We have been proud collaborators of
online gaming companies, sports influencers, advisors, equipment companies, and creators of sports web portals.
As a previous sponsor of
three men's soccer teams
(Ilyssos Rhodes/ AO. Sparta/ SA Parou),
the SPORTING women's basketball team
, and
the women's volleyball team of Ilioupolis
,
Antonis is our first sponsored individual athlete
. We have complete faith in his abilities and the promise of our collaboration overall. Learn more about our clients
here
We wish Antonis the very best in all his future ventures
, including the
upcoming Olympic Games
and all the extraordinary accomplishments that we know he will continue to achieve, impressing us and the world with his undeniable talent and dedication!