Blog.
Globe One Digital supports the 'Exelixi Zois' organisation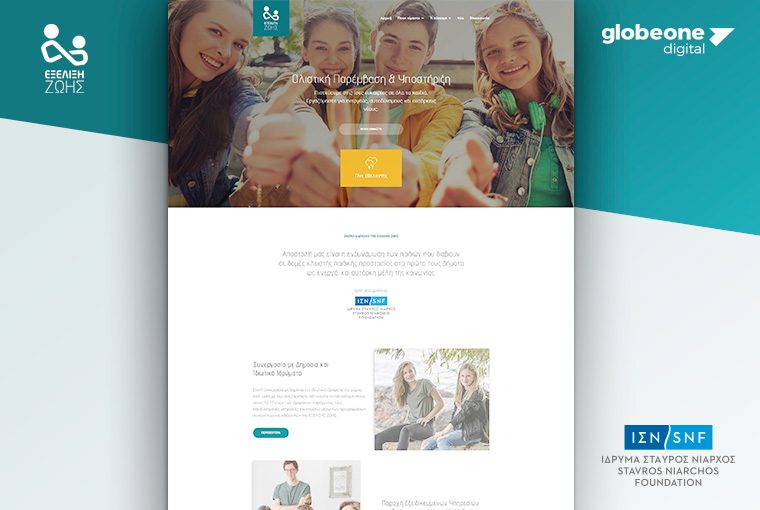 EXELIXI ZOIS
, a nonprofit organization established through a founding grant from the Stavros Niarchos Foundation, is receiving
valuable support
from Multi-awarded Performance Marketing Agency
Globe One Digital
.
EXELIXI ZOIS
, is a
non-profit organization
aiming to
provide guidance and empowerment to children and adolescents
who live and are raised in closed child protection institutions. Its chief purpose is to provide these underprivileged youths with a positive and seamless way of being included in society at large. Several key activities, workshops and events centered around education, sports, artistic and social skills, as well as programmes offering psychological support, are all part of the organization's extensive plans.
Every successful venture requires a robust digital presence, and that's where
Globe One Digital
has stepped in.
The agency offered its sponsorship by generating the creative design, development and web hosting of the EXELIXI ZOIS, website
(
https://www.exelixizois.org
). The agency made it a priority to produce a
contemporary and attractive bilingual website
and
content strategy development
that will dynamically showcase the objectives and actions of the philanthropic organization.
"
I will always stand by any institution or organization that's fighting to create a better present and future for vulnerable social groups; these are people who deserve all the support and love we can give,
" said the Founder of
Globe One Digital
,
Dimitris Papoutsis
.
In an era when it has become critical to offer social solidarity and support,
Globe One Digital
aspires to show how much it cares to help children and youth
receive the right education, foundations and guidance to offer them a bright future. The agency is dedicated to supporting such actions and strongly
encourages the ongoing creation of social and humanitarian initiatives.
Latest articles