Blog.
Every Summer has a Story: Globe One Digital Sponsors Marianna Lourba & Chloe Geitman-Akrithaki Exhibit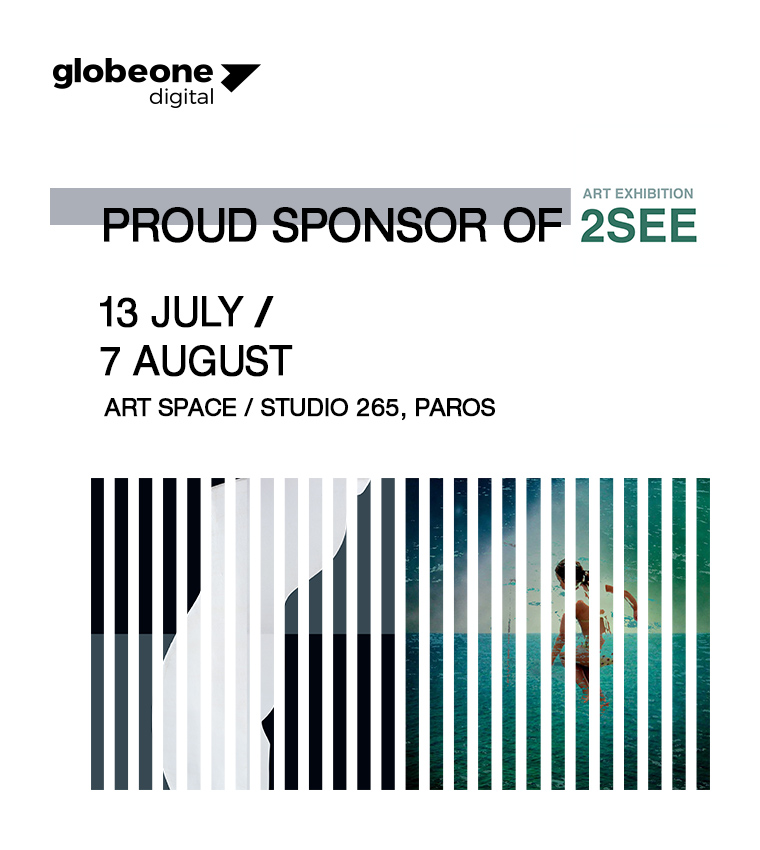 Globe One Digital, the multi-awarded Performance Marketing Agency is proud to announce the sponsorship of Art Exhibit "2SEE" by Marianna Lourba and Chloe Geitman-Akrithaki, taking place this summer in Art Space / Studio 265, Paros. The show, endorsed by the Southern Aegean Region, Municipality of Paros, is open to the public from July 13 to August 7 2019, 9:00 – 17:00 and 19:30 – 21:00, upon appointment.

The exhibition features a number of striking photography and digital collage artworks, inspired by the summer season. This theme brings to mind all kinds of different vacation activities and festivities, mirroring each and every island and rural landscape alike, developing a collective summer experience, that all viewers may equally relate to.

As per the artists, photography is the starting point, in order to generally observe the world around us, and specifically recall images of Aegean travel stories and childhood memories, looking for geometric forms, perspectives and visual tension, with contrast of both tone and color.

Creative Director of Apolyto Creative Spot, Marianna Lourba, is a graduate of Middlesex University, London and postgraduate in Visual Communication and Design, IED (Instituto Europeo di Design), Milan. She has exhibited in various solo and group shows in Athens (GR), Tokyo (JP), NY (US), Arezzo (IT), Orvieto (IT) etc. and received several prestigious awards and distinctions (e.g. Deste Foundation, Mont Blanc, Cosmote). Since 2012, Lourba's work has been included in the permanent collection of Benaki Museum Artshop.

Daughter of renowned visual artist, Alexis Akrithakis, Chloe Geitman-Akrithaki, has had extensive graphic design, photography and visual communication studies in Lette Verein and Bildo Akademie, Hochschule für Kunst und Medien. Her work has been featured in numerous exhibitions in Greece, Germany and the Czech Republic. Geiman-Akrithaki's recent exhibition "Greece meets Prague - double exposure", ran under the auspices of the Greek Embassy in Prague. Geitman-Akrithaki artworks have been part of numerous private collections.

Fostering a culture of excellence in the company, Globe One Digital supports a wide range of art exhibitions, sports & cultural events and humanitarian initiatives. Thus, the agency actively promotes a spirit of collaboration, harmony and humanity, not only in digital business, but in all aspects of everyday life.
Latest articles