Blog.
Globe One Digital As Gold Sponsor of the Google Marketing Conference Again!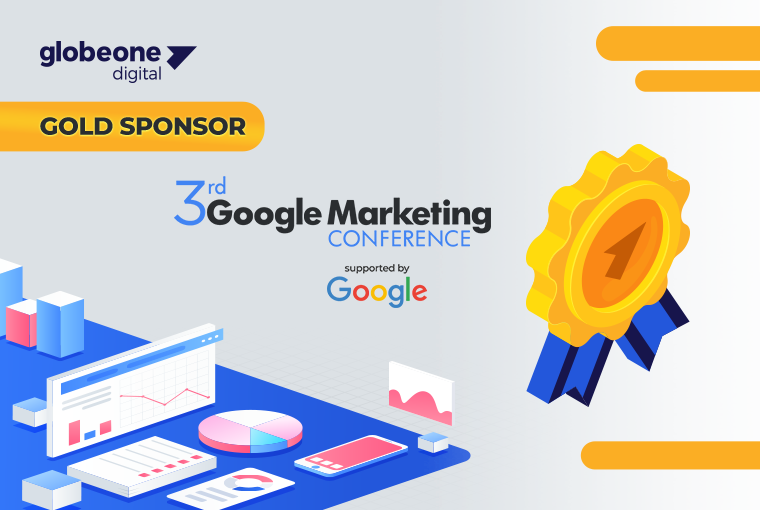 Globe One Digital
is honoured that for the
second time
, it will be the
Gold Sponsor
of the
3rd Google Marketing Conference 2020
, which will take place on the 13
th
& 14
th
July. This year on a virtual platform, the conference will present
the most important trends in Digital Performance, Measurement and Video
. With the primary goal to educate and inspire, the event will feature
10+ leading marketing experts as speakers
. Talks will revolve around critical and timely topics such as "
How Digital Marketing will get disrupted in the next 12 months"
and
"Quickly Adapt your PPC Messaging to Shifting Consumer Behavior"
.
The two-day live and on-screen Google Marketing Conference will feature four main categories related to the change, uncertainty and trends that are affecting the marketing industry since the outbreak of the Covid-19 Global Crisis and beyond:
Navigating Through the Crisis, Measuring What Matters, Performance & E-Commerce and Brand & Video.
Globe One Digital's support
in this conference is part of a series of
turnkey sponsorships
that offer
direct and real-time backing for digital communications
. As a leading and deeply experienced digital marketing agency, we are offering support to the process of disseminating vital solutions of an effective, innovative and inspirational nature to the market. Globe One Digital is
supporting this excellent Boussias Communications and Google initiative
with the vision of driving businesses - from small start-ups to established global brands - to practicing an up to date communications and marketing model. By learning about and implementing game-changing strategies, such as Google advertising, businesses can reap huge rewards.
Virtual Expo Booths, live panel discussions, polls and competitions are all part of this year's exciting two-day event. The 3
rd
Google Marketing Conference will also provide speed networking opportunities among participants and experts will offer
valuable One-to-One Sessions.
As a
Google Premier Partner
,
Google Digital Champion in Smart Bidding
and
Google International Growth Partner
,
Globe One Digital is thrilled to be part of this energetic and progressive event.
Helping businesses grow is a top priority for us and we see this conference as an important message of an industry that will not stop moving towards progress, despite any global or local challenges we may face. As always, our agency will continue to offer its backing and encouragement to educational, innovative and motivational initiatives.
Latest articles