Blog.
Globe One Digital celebrates its 5 year anniversary in Bulgaria with a special event about Digital Marketing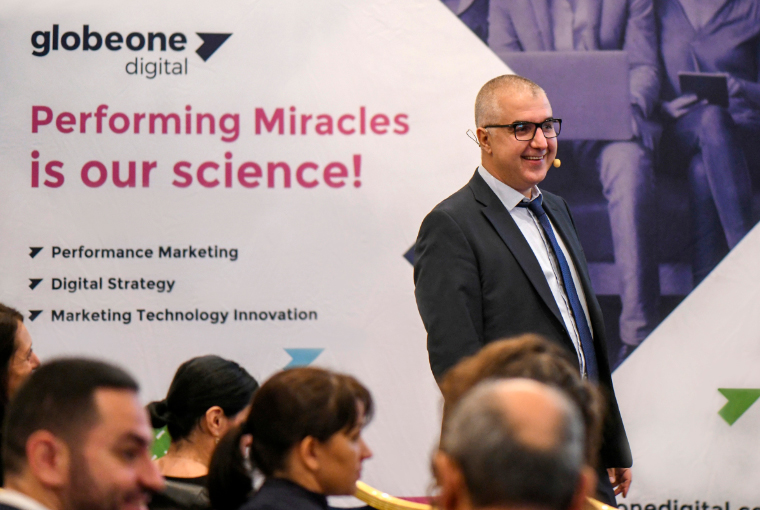 Globe One Digital
celebrated its five-year anniversary in Bulgaria
with a special event about digital marketing recently.
CEO Dimitris Papoutsis
and his team organised an
all-day 'Digital Marketing & Business Growth' seminar in collaboration with the
Hellenic Business Council of Bulgaria (HBCB).
Since 2005,
HBCB
has worked to accelerate trade and investment between Bulgaria
and Greece. Its chief aim is to
generate mutual dialogue between key government
and business figures in the two countries
in order
to advance the development of progressive economic policies.
Participants filled the
Sofia Hotel Balkan
conference hall to receive
valuable training based on
Dimitris Papoutsis'
unique, global know-how from 20+ successful years as a digital marketing strategist.
Areas such as
Performance Strategy, Website Development, Social Media, Digital Strategy and Marketing Technology Innovation
were extensively covered during the one-day event.
With experience of over 2.000 international and local clients of the highest quality, the
Globe One Digital founder
offered solid strategies, expert advice and innovative information
based on robust tried and tested methods. In a business world that keeps innovating at lightning pace,
Dimitris Papoutsis
and his team shared not only
digital marketing essentials
but also
how to keep moving ahead with change
and
continuing to generate impressive results and sales.
We were honoured by
the presence of some of the world's leading companies
, including
Intracom, Euro-football, ETEM, Husqvarna, Chipita, Suzuki, Post Bank, Ficosota, Acibadem City Clinics and Plesio Computers
, and thank them and all member-companies for their attendance. We'd like to express our gratitude for their
ongoing presence and the thought-provoking questions
that were raised during the round table discussion that followed the seminar.
Latest articles