Blog.
Globe One Digital is the Grand Sponsor of the Biggest Awards for Greek Tourism!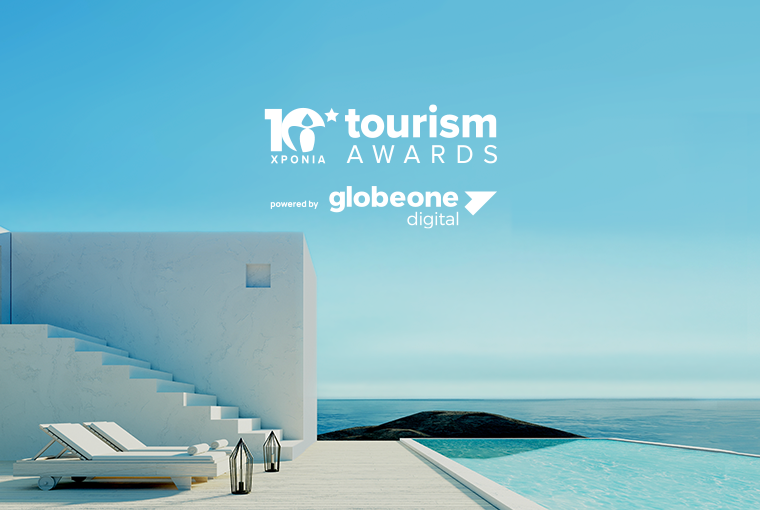 We are delighted to be
the Grand Sponsor of the "Tourism Awards 2023 powered by Globe One Digital" Ceremony
that is organized by Boussias Events. This will be the 10
th
edition of
the first and biggest awards for Tourism in Greece
, which this year is powered by our agency.
The Tourism Awards are the industry's standard of excellence for a wide and diverse range of
travel, hospitality & leisure businesses
, acknowledging their
high quality
services and innovation. This year's winners will be announced at the Awards Ceremony that will be held on April 27 at the Grand Hyatt Athens, in front of an audience of top industry businesses and leaders.
During the past 10 years, Globe One Digital has actively supported the Tourism Awards, by being
a Golden Sponsor
for three consecutive years and an avid advocate of their importance and value for the entire Tourism sector.
We are proud and honored to associate our brand name with the awards that recognize and celebrate excellence in
Tourism
, which is an Industry we have been serving, supporting and empowering
for the last 25 years
with our
highly specialized services
. You can explore our services
here.
We are passionate
about accelerating growth and
we believe
in the
enormous potential of the Greek Tourism
. We are inspired
by every initiative
that drives
positive
change and we are excited
to shine a bright light
on extraordinary achievements that lead
Greek Tourism into the future
!
Our Link & Connection to Tourism
Globe One Digital is
a leading
digital marketing agency in the online travel sector that leverages the latest digital marketing strategies and technologies, to help
Travel & Hospitality businesses achieve their goals and thrive
in a highly competitive market.
The company provides
performance-based marketing solutions to travel brands.
Having a 25 year experience in the online travel sector, the company specializes in helping clients
increase their visibility and sales
through various digital channels. The goal is
to drive high-quality traffic to its clients' websites and convert this traffic into direct revenue.
Our portfolio includes travel brands ranging
from small start-ups to large multinational corporations
and we have helped
more than 100 international brands and over 2.000 clients
, to communicate their messages and strengthen their presence through digital channels,
with
innovative solutions and services.
Discover our clients
here.
Indicative Tourism Clients
: Athens 2004 Olympic Accommodation, Grecotel, Marriott, Swot, Zeus, Smile Acadimos, Attika Reisen, Astir, Lufthansa, Hamad INTL Airport, Matsuhisa Athens, Villabeat and many others.
Our
specialized team
is
an expert in online travel marketing
and is dedicated in creating the most effective and innovative strategies, with a proven track record in delivering extraordinary results to our clients. We implement
a personalized approach
and
we use cutting-edge technology
,
to maximize
our clients' online potential and drive
more bookings and more revenue.
Discover our Link & Connection to Tourism here!