Blog.
14 Benefits Beyond the Payroll: Globe One Digital' s blueprint for employee happiness & company success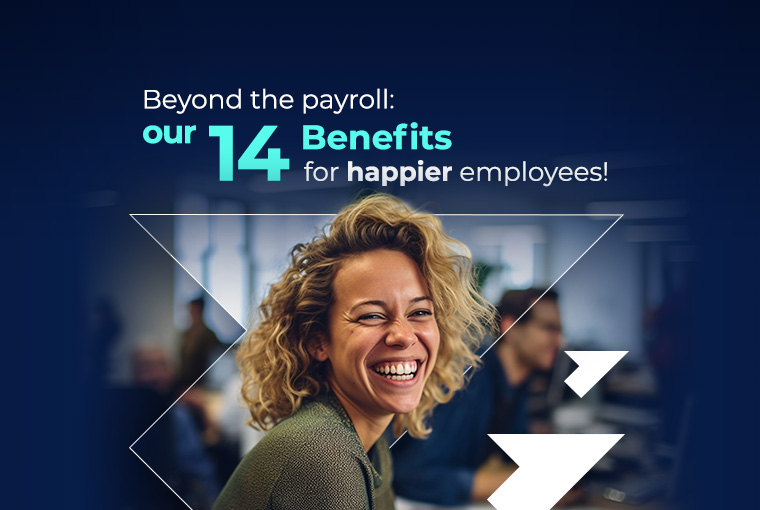 Globe One Digital is dedicated to
empowering and investing in its employees,
offering
benefits
and opportunities that rival those found in multinational corporations. Despite its size, the company is committed to fostering
personal and professional development
, going above and beyond to demonstrate its unwavering commitment to its workforce. This dedication is exemplified through an extensive array of
employee benefits
, meticulously designed to
enhance happiness,
and save them
substantial amounts of money
.
A New Standard in Employee Empowerment
Globe One Digital embarked on
a mission to redefine the employee experience
4 years before the challenges of the COVID-19 pandemic emerged, leveraging insights from scientific research and expert consultants. Our goals were to empower our employees, become their employer of choice, and create a workplace culture built on mutual growth.
Our initial benefits, including corporate mobile phones, laptops, remote work flexibility, and bonding corporate events
, marked the beginning of this transformative phase. These
benefits
not only simplified daily tasks but also initiated a cultural evolution within the company.
Expanding the Array of Benefits
Our dedication to employee happiness and adaptability
has led to the expansion of our
benefits
, addressing various important aspects of our employees' lives. We go beyond the traditional or the standard and search for ways to empower our team members while providing significant
financial
support.
Let's delve deeper into
14 advantageous benefits
that Globe One Digital offers:


Savings Programs: Encouraging financial responsibility and savings not only helps our senior executives but also sets an example for the entire organization. It aligns with our commitment to employee financial health and long-term stability.


Enhanced Private Health Insurance: Offering top management an enhanced private health insurance program demonstrates commitment, fosters loyalty, and reduces stress related to healthcare costs. This benefit ensures comprehensive healthcare support, promoting their well-being and continued dedication to the organization's success.


Hybrid Company Cars - Leasing: This benefit not only provides convenience for senior executives but also symbolizes our commitment to recognizing and rewarding leadership within our organization. It showcases our dedication to employee progression and well-deserved perks, reinforcing employee loyalty.


Study Subsidy: This benefit contributes to the employee's personal development but also to the growth of the company. By investing in education, we ensure our employees are better qualified, which ultimately leads to increased profitability. Moreover, this investment fosters employee loyalty and retention, saving the company resources that would otherwise be spent on hiring and training new talent.


Advanced Training Workshops and Sessions: These sessions, led by marketing experts, directly contribute to the professional growth and skills enhancement of our employees. They not only empower individuals but also elevate the overall competence of our team, leading to improved productivity and innovation.


Additional Marriage and Birth Allowances: These additional allowances signify our genuine concern for our employees' personal lives and underline our unwavering dedication to providing them with support during pivotal life events. They enhance employee satisfaction, strengthen our bond as a workplace family, and foster a supportive environment for all.


Remote Working: Remote work grants employees the freedom to structure their schedules for optimal productivity and diminishes the stress and expenses associated with daily commutes. Moreover, this flexibility contributes to heightened job satisfaction and a more harmonious work-life balance.


Bonding Corporate Events: Corporate events forge stronger interpersonal bonds, promoting collaboration and communication. They generate lasting memories, foster a sense of belonging, and contribute to a positive workplace culture.


Daily Kitchen Café Offerings: Providing daily kitchen offerings, including three meals, snacks, salads, and healthy desserts, is a valuable perk. It promotes healthy eating habits, saving employees money on daily food expenses while fostering a sense of community in the workplace. It also encourages employees to take breaks, recharge, and maintain their well-being.


Personal Functional Training Fitness Programs: These small private group training sessions contribute to our employees' physical well-being. Engaging in such activities fosters team bonding, reduces stress, and boosts overall health, resulting in a happier and more resilient workforce.


Special Discounts at Partner Businesses: With discounts ranging from 20% to 40%, employees can experience the excellence of our portfolio brands while enjoying significant savings. This valuable benefit underscores our commitment to quality and value, contributing to well-being and job satisfaction, creating a more enriching and rewarding work environment.


Supermarket Coupons: Supermarket coupons support employees' financial well-being by helping them save on daily expenses. This financial assistance not only alleviates stress but also amplifies contentment, creating a positive ripple effect on job satisfaction and professional growth.


Laptops: Laptops offer flexibility and empowerment, enabling work from any location for improved work-life balance and job satisfaction. With a built-in service

VoIP

for calls, employees can communicate seamlessly, enhancing overall productivity through up-to-date technology.


Corporate Mobile Phones: Corporate mobile phones boost employee connectivity and accessibility. They enhance productivity and job satisfaction by enabling efficient work on the go. They also provide employees with the added benefit of incorporating personal calls, further contributing to their overall well-being.


Empowering Employees, Fueling Success & Prosperity
At Globe One Digital, our comprehensive suite of
14 benefits
is designed not only to empower our employees but also
to enhance their overall quality of life
. Statistics, from a Forbes Advisor survey highlighting
the top employee benefits
, testify to our alignment with best practices. Globe One Digital proudly provides
4 out of the top 5 benefits
listed in the published article, with
all these benefits
applicable to individuals
of all genders, sexes, and backgrounds
. By offering
benefits
that rival those of multinational corporations, we not only empower them to excel but also solidify our position
as a forward-thinking employer
that supports diversity and has signed the
Diversity Charter
. Read more about this
here
.
We understand that employee happiness isn't just a "nice-to-have" but a fundamental driver of innovation, collaboration, and excellence for our company. We firmly believe that investing in our employees and offering these
benefits
ensures
individual growth
but also contributes
to the success and sustained growth of our company
. Our commitment to workforce happiness is based on saving our employees money, enhancing their lives, and ultimately fostering a culture of growth and prosperity.
Source
:
Miranda, D. (2023, February 6). Best Employee Benefits In 2023.
Forbes Advisor
.
https://www.forbes.com/advisor/business/best-employee-benefits/