Blog.
An Exciting Era Begins: Step into Our New Offices in the Heart of Sofia!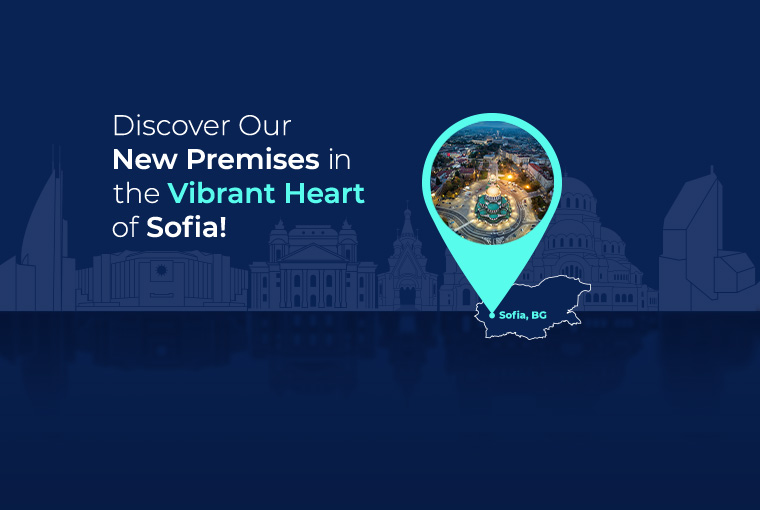 Globe One Digital has officially set sail to a
brand-new location
in the heart of
Sofia
, in Bulgaria! As of June 1st, we are operating from our new offices in the bustling
34 Positano Street
, right in the heart of the city center and its lively vibes!
A stone's throw away from the
cosmopolitan
Vitosha Street, brimming with fabulous restaurants, lively coffee shops, and an infectious, vibrant atmosphere. Our
prime
location makes
commuting to work a breeze
, thanks to the
easy access
it offers to the metro station and the city's Tram 7.
Step into our new premises and you'll find so much
more
than just a workspace. It's an architectural celebration of
our values
:
innovation, collaboration, and creativity
. Designed with a modern and elegant flair, the new offices capture the essence of
minimalism
and
comfort
. The soothing neutral tones breathe tranquility into the workspace, while the open work area inspires
collaboration
and
free-flowing ideas
. A well-equipped meeting room, a cozy kitchenette for lunch breaks or alternative brainstorming sessions seasoned with delicacies, and a sunny balcony create the perfect setup for
recharging
and
exchanging innovative ideas
.
Our journey began in
2014
and since then, we've experienced consistent
growth
, both in terms of
revenue
and our
impressive clientele
. Our portfolio is filled with industry leaders like
BETANO, Vivacom,
Dominos, SUZUKI, GARDENA, HUSQVARNA, TED, Alexandris Engineering, Ingiliz
and many more.
So, what's the secret recipe for our success?
A perfect mix of
top-notch services
that complement and enhance each other, and all working
together
to deliver
unparalleled results
:
Performance Marketing, Technology, and Creativity
.


Performance Marketing: We supercharge our partners' digital presence with high-impact advertising campaigns, SEO strategies, and influential marketing that maximize their reach and conversion rates. We tap into the power of digital engagement to propel brands to unprecedented heights!


Technology: We're at the cutting edge of tech, pioneering web development solutions and driving digital transformation. Through data science and analytics, we equip our partners to stay ahead of the curve in the digital age.


Creativity: As an award-winning agency, our passion lies in crafting digital experiences that captivate audiences and create lasting impressions. From web design to content strategy, we weave innovation into every project.


The move to new offices signifies the dawn of a new era for us, our team, and our partners. We envision a future filled with
endless possibilities
, driven by
collaboration
,
innovation
, and a
shared desire
to
thrive
in the digital landscape. And the new offices are just that:
A dream office that triggers innovation and inspires our work!
Latest articles